There are two reactions to most aircraft accident reports when other pilots review the data. It's either (a) "there but for the grace of God go I" and there's (b) "what an idiot."
Fuel starvation qualifies under the second category and this week, Bob Miller tackles fuel starvation issues in his very excellent newsletter, "Over the Airwaves," the
new issue
of which is out today.
* * *
I got a nice note a few minutes ago from old RVer friend Bill Swaim (well, OK, I met him at the RV BBQ a year ago, but he seems like an old friend).
"I know Minnesota Sue.......(the airplane I posted a picture of yesterday on the Yahoogroup) Greg & Sue are based right here in Moline, Il
I've been to the Boone fly-in several times. It's always a good one. Would have been there this year, but then would have had to turn down a trip in this;"

Good choice, Bill.
The only time I've been in an open cockpit of any kind was a few years ago when Minnesota Public Radio reporter Dan Olson was working on a story about Jim Grist, a builder of a Skybolt. He asked me to go to Lake Elmo to see him and Jim was gracious enough to give me a lift. I loved it! It was a short flight (we circled the Stillwater power plant and back), but I was struck by the maneuverability and turn radio of the little plane.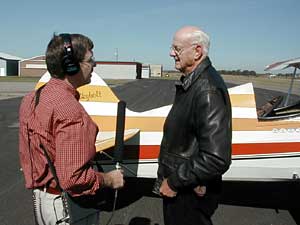 You can read the whole story
here
.
* * *